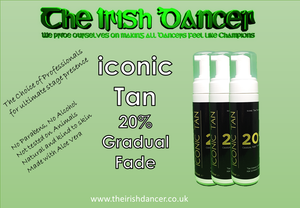 iconic Tan - 20% Gradual Fade with Aloe Vera (Tanner)
 I am really impressed! Easy to apply and gives an even colour to legs and body.
Spray tan be gone!
Iconic Tan is the only thing Irish Dancers need from now on!
Ciara Sexton xx
Self-Tanning Foam that's simple to apply and gives a flawless finish. Enriched with Aloe Vera
Specially formulated and tested on Dancers
Suitable for all dancing styles including Irish/Ballroom/Latin/Disco
• high quality DHA
• Non Sticky, Fast Drying - into a extra rich dark Golden Bronze
• Only one application necessary, but can be layered to achieve desired result
• Does not rub off on costumes / clothing
 • Simple to apply with a tanning mitt, makeup sponge or airbrush
 •Natural ingredients - kind to skin
 • Contains No Parabens, Perfumes or Alcohol
• Suitable for all skin types (tried & tested on sensitive skin & excema)
• Not Tested on Animals
Allow minimum of 8 hours for tan to develop before showering off guide colour residue.
Advisable to apply 48 hours before competition/event