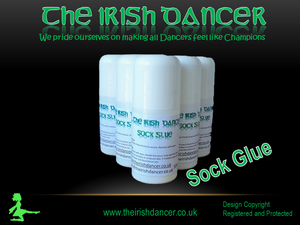 The Irish Dancer Sock/Body Adhesive
Available in liquid form in an easy to use roll on bottle, TID Sock Glue is an invisible hypoallergenic water washable adhesive. Designed to be comfortable, it stays flexible to move with your skin. TID Sock Glue is suitable for a wide range of applications including:
Pharmaceutical/medical
Holds breast prosthetics in place. Prevents surgical stockings slipping. Ideal for anti-embolism support hosiery to prevent DVT on long haul flights.

Dance & Theatre
Stops dancing socks slipping, holds warm up socks onto Lycra, sticks body jewellery and glitter.
Ideal for gymnastics and Irish Dancing.

Fashion
Prevents dress straps slipping. Use TID Sock Glue for strapless bras and open fronted dresses. Choose how much or how little YOU want to reveal. No need for hold ups or suspenders for silk stockings. Stops nylon tights sagging.
Sports
Stops heavy duty socks and shin pads from slipping. Prevent joggers nipple. TID can even stop spectacles from slipping.
Needs no scrubbing to remove. TID body glue is designed to wash off with cold water.