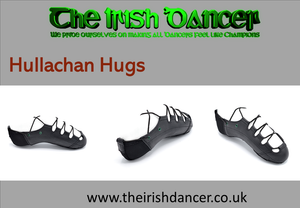 Revolutionary New Design Concept
Hullachan Hugs offer Irish dancers a revolutionary new design concept, which creates the perfect heel shape - every time. Yes, every time!
It has been on secret test with dancers around the world and the positive feedback has been overwhelming. Our test dancers were amazed by how secure they feel on the foot and the confidence it gives them when they dance. Our test dancers also loved how they looked on the foot, with curved, beautifully shaped heel and a clean arch profile.
New Heel Hugging Material
Our design team have replaced the leather at the back of the Hugs, with a new heel hugging material, which shapes around the dancer's heel to create a personalised fit and streamlined look, whatever the shape of your heel. 
When you dance the shape of your heel is continually changing, depending on whether you are pointing your feet, leaping through the air, or up high on your toes. Hullachan Hug heels continually adapts while you dance, ensuring the pumps feel secure at all times, whatever the step. 
You will be amazed at the difference.
Clever Insoles
Hullachan Hugs are fitted with our much loved Clever Insoles (TM).
Clever Insoles (TM), are exclusive to Hullachan and provide a unique, dual layer of cushioning and protection for the foot. This is essential if you are a committed Irish dancer, attending several classes a week and competing regularly.
Clever insoles absorbs over 90% of impact, protecting knees, hips and ankles from small strains which can impact your longer term performance. No dancer wants to step back from a competition due to injury, so let our Clever Insoles take the strain so you can focus on performing at your very best.
Please note that we have designed the heel pad to be removed if desired without damaging the pump. In our test half the dancers like the heel pad, the other half preferred to dance without it. As a compromise we have kept the heel pad but only lightly glued it so it can be easily removed. if your heel pad becomes accidentally detached then it can be reglued with a simple contact adhesive. 
Stunning Presentation Box
To celebrate this revolution in Irish dancing, we are presenting every pair of Hugs in a beautiful Hullachan Hugs box. So perfect for gifting to Irish dancers and a wonderful way to acknowledge a dancer's love of Irish dancing and the importance of dance in their life.