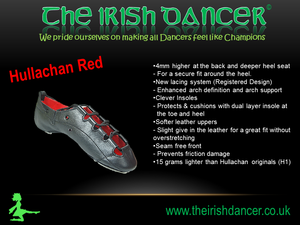 4mm higher at the back and deeper heel seat
- For a secure fit around the heel.
New lacing system (Registered Design)
- Enhanced arch definition and arch support
Clever Insoles
- Protects & cushions with dual layer insole at the toe and heel
Softer leather uppers
- Slight give in the leather for a great fit without overstretching
Seam free front
- Prevents friction damage
15 grams lighter than Hullachan originals (H1)
- All these great features but the pump weighs less!

Sizing Tips

As a result of feedback we have had from dancers already wearing the H3 we would recommend dancers order half a size SMALLER than their normal Hullachan size as the H3 is made from a much softer leather and will stretch much faster. Order your normal shoe size if you prefer a looser fit.